Keeping our streets clean
One of the biggest problems councils face is the issue of chewing gum pollution. Not only is it impossible to prevent people from dropping chewing gum onto the street but it's very difficult to remove. When the gum dries out it hardens and binds to the stone, pavement or brick. Disgusting! Unfortunately we see this problem more and more, not just in towns and city centres but around bars, hotels and sports grounds.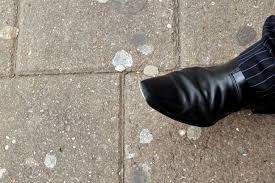 There is a solution thankfully! The gum can be removed easily using a technique that employs dry-ice blasting. See our friends over at www.specializedcleaning.ie for more information on this fantastic service.
Once the gum has been removed and the surface cleaned we can apply Liquid Glass in a very thin layer to the area. When the liquid has evaporated it leaves behind a layer of glass which repels stains, liquids and prevents litter sticking to the surface. This layer is extremely thin so does not make the surface slippery. Nor does it affect the colour or leave a shine on the stone. It makes the surface extremely easy to clean due to the non stick properties of Liquid Glass.
NP Liquid Glass also protects surfaces from graffiti and we can treat monuments, statues and buildings from this damage.
Call us today for a free quote and test patch or email rachel@npliquidglass.ie for more information.
NP Liquid Glass is environmentally friendly, food, pet & child safe and ecologically sound.