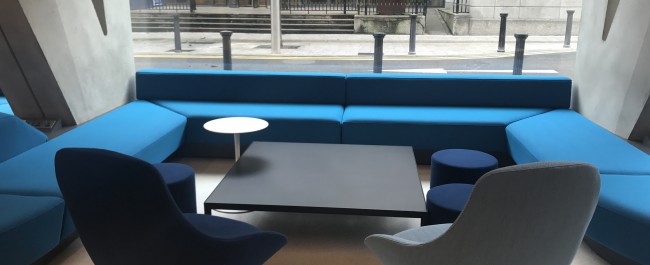 RCSI Project
NP Liquid Glass Systems were delighted to be chosen to protect the new furnishings in the beautifully designed RCSI wing at St Stephen's Green, Dublin 1.
This new wing to the existing college was designed by HJ Lyons architects and the finishing touches were beautifully executed as can be seen in the photos. The furniture was picked to suit the overall feel of the building and we were very happy to get the job of protecting all the fabric seating, chairs and sofas.
With a large student body there are bound to be spills and stains but our coating will keep the fabrics looking like new and very easy to clean and maintain.
Bright colours can be easily dulled by staining but this is not a concern with our stain repellent coating for fabrics. Also the fire retardant on the fabric is not diminished in any way by our stain repellent coating. Our product is completely toxin free and environmentally friendly making it ideal for use in all environments.
Our services are available to both the commercial and hotel sector, we can provide protection in hotels, offices, restaurants, bars etc and we also cater for the home and small office environments.
Please call Rachel on 0876408579 for information and pricing.