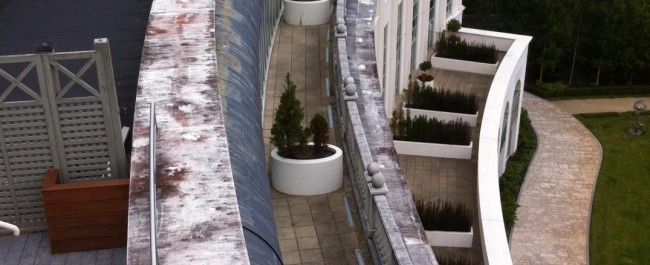 Works at Powerscourt Hotel
We are delighted to share details of our ongoing project at Powerscourt Hotel with you. This beautiful building, set in the heart of Wicklow and surrounded by forestry has unfortunately become stained with algae growth over the past few years. Red, green and black staining can occur where water is sitting or has become trapped in the render of a building. The algae staining is quite prevalent here and very obvious as the rest of the building is a light colour.
Firstly we remove the algae and power wash the full surface. Then, once completely clean and free of all residue our Liquid Glass Premium Stone Protection is applied to the surfaces. This coating no only repels water away but it prevents the algae sticking to the stone. This has two benefits; one, it will prevent damp penetration and two, it will make the surface extremely easy to clean and maintain.
You can see in the photograph that the lower balcony has been cleaned and treated. This was done last year and in comparison the higher balconies look very unkempt. At the end of this project all the balconies will look clean and restored to their original beauty.
We also provide this service to domestic dwellings so if your home has bad algae staining we can help with this.
For enquiries please call Rachel on 0876408579