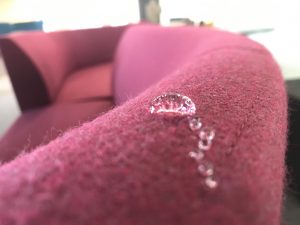 Protecting Fabric with NP Liquid Glass
All fabrics can be treated with our Liquid Glass coating. This coating protects the fabric from staining and discolouration and because it's toxin free it can be used in restaurants, kitchens and dining areas. Perfect for those lighter fabrics that are hard to keep clean. We treated a pair of white jodhpurs and then splashed them with pink liquid to show how easy it is to keep them clean once they are treated with NP Liquid Glass.
This coating can be applied to all surfaces in the home or office including tiles, grout and ceramics, stone & brick, carpets and upholstery.
Contact us today on 087 6408579 to find out more.