NP Liquid Glass can be used to protect all types of surfaces and we cater for the differing needs of our customers. We were delighted to help out a new coffee shop in Wexford who wanted to protect their benches and chairs from coffee and tea spills, usually something that would leave a dark stain on the fabric. We protected all the benches and chairs, which had been covered in different types of fabrics and colours. Once they were protected, the NP Liquid Glass layer repels liquids away from the surface so your normal spills in a cafe environment were no longer a problem.
It's important when picking your fabric to think of what type of environment they will be in. For example, kitchen chairs will need to take a bit more hardship that the sofa in a room that's not often used. Lighter fabrics will stain easily so consider protecting them with NP Liquid Glass before you cover your armchair or sofa.
A lot of people ask us about protecting fabrics from dog hair. It will stop hair sticking to the fabric and make it easier to hoover away but unfortunately won't solve the problem completely. We say invest in a good hoover, the Dyson Animal is what we would recommend! Although it will help if you are house-training a new puppy! The liquid can't penetrate into the protected fabric so it's very easy to clean up little accidents.
Speaking of little accidents, we've all had that horrible moment of spilling a dark liquid on a light material. Think red wine on a white carpet, not good. Not to worry though if your carpet is protected with NP Liquid Glass. Each individual strand of fabric is coated and protected from stains so the spilled liquid cannot penetrate and the spill sits on top of the layer, making it very easy to mop up and clean.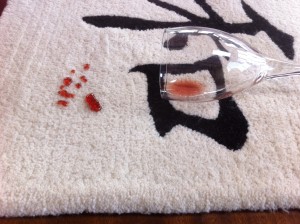 We are happy to test any fabric so if you are thinking of reupholstering any piece of furniture you can send us a sample to coat so that you can test it before purchasing. Contact Rachel on 087 6408579 or rachel@npliquidglass.ie for more information.